Help Us Champion the Next Generation of Citizen Scholars
Community Action. Intellectual Rigor. Transformational Leadership. These are some of the words that come to mind when thinking about our Sally McDonnell Barksdale Honors College (SMBHC) scholars! As we continue to grow and equip more citizen scholars to impact society, we need your support.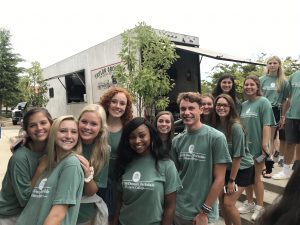 Honors freshmen (top) and honors student
volunteers during Honors Welcome Week.
Areas of Support
Your contributions will benefit students as they seek answers to critical questions through research and collaboration. It will catalyze their opportunity:
To serve community & organizations through experiential learning (internships, community projects, research studies).
To receive a top-tier private liberal arts education at a public university price.
To have innovative curriculum that allows them to explore and grapple with traditional and contemporary issues in a holistically challenging environment.
Now & Ever: The Campaign for Ole Miss
Annual Gifts
Major Gifts
To establish an endowment or make a planned gift, contact Brady Bramlett at bradyb@olemiss.edu or at 901-870-3499.