Au cœur de Mai 68
Date(s) - 04/05/2018 - 04/30/2018
12:00 am
Location
Sally McDonnell Barksdale Honors College
YOU'RE INVITED!
The University of Mississippi will host an exhibition of previous unseen material on the May '68 French student and labor protests featuring 40 images from photographer Philippe Gras and a 2-part documentary by filmmaker Dominque Beaux.
The exhibition, entitled Au cœur de Mai 68, is a collaboration between the association des Amis de Philippe Gras and les Films des quatre Planètes. It features 43 previously unpublished images of the May '68 protests taken by acclaimed photographer Philippe Gras and discovered after his death in 2007. The photography exhibition is accompanied by the 2-part documentary film Mai 68: une étrange printemps featuring first-person accounts by politicians, union representatives, and law enforcement.
Au cœur de mai 68 will be on display at the University of Mississippi in the Sally McDonnell Barksdale Honors College Great Room April 5-30.
There will be an opening reception April 5 from 5-7.
The documentary will be screened in two parts on April 17 & 19 at 7:00 pm in Lamar 126.
All events are free and open to the public.
Summary provided by the Cultural Services French Embassy in the United States.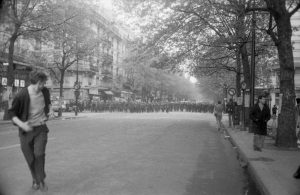 Photo by Philippe Gras