Congratulations to the SMBHC Class of 2017!

Photo by Robert Jordan/Ole Miss Communications
The honors college commissioning took place on Friday, May 12th, at the Gertrude C. Ford Center.
Michael Holman's Welcome
Welcome, parents, family, friends, faculty, and students. Welcome to the end, to our end. These words aren't the end, I'm just here to mark the beginning of the end.
And maybe this whole college era has already ended for you. Maybe it ended when you packed your car this morning, or when you defended your thesis, or when you clocked out of your job. Maybe it'll end tomorrow, when you pass the city limits, or next week, when you get your diploma in the mail. Maybe you won't know your end when it comes. It'll be a brief moment when you pass a friend on the Square. You'll ask how they're doing, and you'll walk away without realizing that that will be the last time you see them.
This isn't that moment. This hour is symbolic of that moment, but it's more than just symbolic. We're constructing it, we're pulling it out of thin air into our collective imagination, by being here and agreeing that this is something. We scheduled it and dressed up for it and we'll cry over it. This hour focuses, distills years of moments so that we can point to this date later, to where it's written on a piece of paper on our wall. We can point to it and say that was the end. And it will be. And it won't be.
Because the end comes when we say goodbye, and I'm not here to say goodbye. I'm just here to say welcome.
Yujing Zhang's Address
Thank you Chancellor for your introduction. I am so humbled to be here and to represent the Class of 2017 Honors graduates.
Families and friends, thank you for being here today for your special ones. You have no idea the amount of talent that's sitting in the first few rows of the Ford Center right now. We have academic giants, servant leaders, entrepreneurs, athletes, performers, many of whom have been recognized locally and nationally… I could go on all night about their accomplishments. What makes my class truly special, though, is that we are social creatures. No, that's not an euphemism for party animals. What I mean is that this is a class that truly cares about getting to know each other and spending time with each other. And today I want to reflect on my memories with you all in the past four years.
If you lived in the Honors dorm, Ridge South, freshman year, you know that's where the good life was. Rolling down the hallway in our dorm chairs, pulling all-nighters with friends in the study rooms, getting a smiley face sticker from Timothy, and finding your soulmate like JR found Blake. Don't you wish you could go back to those carefree days?
The next two years are what I call the "resume" years. We were busying fulfilling DSG's vision of us as citizen scholars. And still, we found time to keep up with each other by supporting events and organizations in which Honors students were involved. We promoted recycling with Green Grove, we pledged It's on Us to stop sexual assault, and we danced 12 hours for the kids at Batson Children's Hospital.
Then, in the blink of an eye, senior year arrives. Our social media became flooded with engagements and girls saying "I do" to diamonds that last forever, meanwhile, Honors students are saying "I passed" to theses that, well, maybe not last forever, but like diamonds, they are also made under pressure. And then you have some people like Rozier, who manages to defend his thesis and propose to his girlfriend on the same day. Now that's an Honors student for you.
I know I cannot do justice to four amazing years of Honors education in four short minutes, but I wanted to spend this time rekindling a sense of bonding because tomorrow, when we walk out of Ole Miss with our degrees, we will have to make new connections with people from all walks of life. We are honors students who are driven to find solutions, and solutions are not found alone. I will end with a quote by John Lennon, "A dream you dream alone is only a dream. A dream you dream together is reality."
Congratulations Class of 2017, the stage is yours. Thank you.
Austin Powell's Charge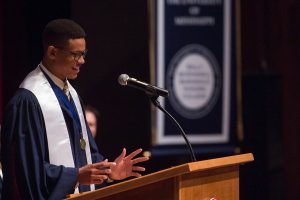 Photo by Kevin Bain/Ole Miss Communications
It is my honor and privilege to be presenting the charge to the graduating Class of 2017.
I am the final barrier between all of us and the moment we have been waiting for. As we walk across this stage, let us not forget that this accomplishment honors not only ourselves, but all those who have helped us along the way. We honor our friends, family, and our thesis advisors.
Yesterday, Alex Lindstrom and I decided to wear our cap and gown across campus on our last stroll of our stomping grounds. After the ten-minute walk to her car, I realized that when I got hit in the face with a branch I lost my graduation tassle. According to our Alma Mater, the Ole Miss trees lift high their branches. But I want to clarify that this is false. A lot of them are low hanging and can catch people off guard. It took ten minutes for me to lose something I just received. After talking to Alex, I was reminded of two things: 1) I need to get my life together and 2) that Life, itself, is too short. Our friends quickly turn into family, and our moments come and go. 
In four short years, The Sally McDonnell Barksdale Honors college has given us the undergraduate experience of a lifetime. We have been challenged with academic rigor, we have engaged with the brightest minds in Boston, we have successfully left a legacy of our own research (even when we didn't think we would make it), but most of all we have become citizen scholars. In a short time, we have learned the importance of engaging and pairing our academic minds with communities across the world. Today, I charge the Sally McDonnell Barksdale Honors College Class of 2017, to remind yourselves that Life is too short not to help the person standing beside you. We are products of an Honors College that has believed and guided us to be successful individuals within our own fields. I will leave you with these profound words from Kendrick Lamar's new album entitled – DAMN.
Be Humble.
Thank you.