2009 Honors College Commissioning Ceremony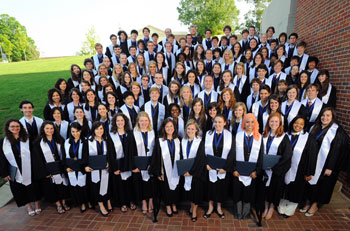 Congratulations to the SMBHC Class of 2009!
The Honors College Commissioning Ceremony Speeches for the graduating Class of 2009 are included below.
Chinelo Udemgba's Welcome Speech
Good Evening and Welcome to the Commissioning Ceremony for the Sally McDonnell Barksdale Honors College. First of all, I would like to thank everyone for coming out this evening. Thank you families of prestigious scholars, faculty and staff members of the Honors College and the University of Mississippi, Chancellor Khayat, the Barksdales. Without your support, we may not have been successful in our various endeavors at the University of Mississippi.
We should congratulate ourselves for a job well done. Graduating is a big task on its own. We have endured challenging courses and the thesis. We have completed our Community Action Component, aka CAC. We have had so many opportunities, such as listening to world-renowned speakers, registering earlier than pretty much everyone else for classes, completing national scholarship, Freshman Ventures (which most of us participated). In the end, it was well worth it.
Today is one of several defining moments in our busy lives, and I hope that with any challenge we face, we can defy gravity (metaphorically speaking). We can accomplish things that no one may think possible. We can make things better. We can contribute so much to society if we can just put energy forth. By actually making it to this point, we have proven to ourselves and to everyone else that it is possible and we can change situations for the better as long as you try. So to the graduating Class of 2009, tell them how you can defy gravity, and how no one is ever gonna bring you down.
John Darnell's Keynote Address
Faculty, Family, and Friends—
It is an honor to stand before you today as a part of this amazing group of students. When I learned that I had been selected to give today's address, I began thinking of what would be appropriate to share with you. Professors and students alike asked me in which voice or character I was going to perform. Would it be Douglas Sullivan-González (done in DSG's voice) or would it be former President George W. Bush (done in Bush's voice)?
After much thought and thinking of how upset DSG would be with me, I came to the conclusion it's about a different voice. Really, I stand before you today as the voice of the Class of 2009. This journey began four years ago as we naïve freshmen showed up on campus bright-eyed and bushy-tailed. Through our experiences with Honors 101 and 102, our horizons were expanded. For Freshman Ventures, we had to organize our own trips, book our flights, and also book our hotel rooms. We traveled across the country in search of the answer to the question "Who determines what is right and what is wrong?" I would tell you that we as a class found the answer, but I do not believe that we ever agreed on anything.
As sophomores, we traveled to Chicago to work at the Boys and Girls Club and also with Gospel League Home, a homeless shelter for women. We had the opportunity to help others but we had our lives blessed and transformed as well. As seniors, we traveled to New York City. Well, we were supposed to go to New York City. Instead, we went to Memphis. Could the recession not have waited just a little longer?
The final step in this transforming process was the thesis. As we pieced together these magnificent works, we learned a lot about discipline, research, and patience. The thesis is really what makes this group of students like a fraternity, and no, I am not saying that the thesis is like hazing. This process brings us together with another common experience unique to the Honors College, and it is something that we will remember for the rest of our lives. In ten years, we will have nightmares that our thesis advisor is calling us wanting us to make one more revision to the last chapter.
I believe we also learned a lot about ourselves through the college experience and the thesis process. I learned I cannot do it without God as my faith in Jesus Christ carried me until the very end. That promise that He would never leave me or forsake me and that He is the source of my strength carried me through the good and tough times. For me, college was about prioritizing and keeping Him first. As we move past our undergraduate years, I encourage you to examine your priorities. Keep them in line and do not lose sight of what is important.
My challenge for today is not only for the graduating class, but also for our family and friends as well. Please, "don't strike out looking."
When I was a senior in high school, I decided to play baseball, and I started every game. After the first week or so, I settled into my position in right field. However, I really struggled with batting, and I had a tendency to just stand in the batters box and watch the pitches go by. I do not know why I did not swing. Maybe I was hoping for a walk or perhaps that I would get hit by a pitch. Not only was it a problem for me, it was a problem for the entire team. It was really frustrating for our coach who made us run ten foul poles per batter who struck out looking. Sometimes, we would run thirty or forty foul poles after every game. Well, my coach got overly frustrated with me as I struck out looking on three pitches. I never even took the bat off of my shoulder! So, he let me play right field, but someone would bat for me. At this point, my batting average was .061.
It grew more and more frustrating as my designated hitter struck out time and time again; however, he struck out swinging. One day, my coach decided to give me another chance. I stepped into the batters box, and I swung at every pitch. I fouled off the first two, and I struck out on the third one. But, my coach was very happy that I had begun to swing and was no longer letting the pitches pass by.
My last game of my senior year was going well as I had one hit, one walk, and was hit by one pitch. I stepped into the batters box knowing this was the last time I would swing the bat. Ball one. Ball two. Ball three. Typically, you do not swing on the 3-0 pitch to force to throw a strike. He did. The next pitch was in the dirt, and I fell for it. I then proceeded to foul off another pitch, and the count was 3-2. I calmed myself down and refocused. I wanted to be disciplined and only swing at a good pitch. The pitcher kicked and delivered a fastball right down the middle. I struck out looking.
Why do I tell you this story?
Everyday, we get out of bed and step into the batter's box of life. Our pitches come in many forms: job opportunities, or just an opportunity to serve and help. As we walk across this stage, we step into the batter's box once again. We have the opportunity to take what we have learned and work our way through the proverbial farm system of life. Instead of watching these opportunities just pass by, I encourage you to take a swing. We are not guaranteed to hit a homerun or even reach base. The alternative would be walking away like I did from my last at bat knowing you let the pitch of a lifetime pass you by.
Faculty, Family, Friends— "Don't strike out looking."
Alecia Waite's Charge
My fellow Honors College students, I feel very honored, and humbled to stand before you – to help lead the graduation Charge of 2009. I would like to start by expressing why I feel so proud to be a student at Ole Miss and a member of the Ole Miss Honors College. So what have I, a member of the Class of 2009 to be proud of? One of my most cherished is our University's very visible participation in a defining historic event for our country – a bookmark in history that many generations of students who follow us will reflect back on as part of the University's proud heritage – the election of this Nation's first Black President. And we were there! The Honors College was involved in just about every aspect of the preparation and execution of our Nation's first Presidential Debate that took place here, on our campus – what an exciting honor! And it is fitting that Ole Miss should have such a high profile role in the Presidential Debates, because one of our University's core values and strengths – diversity and inclusion – was one of the central themes in last year's election process.
The Honors Class of 2009 is a very diverse group, people from all walks of life, and this diversity has contributed to our success. In participating in Honors College activities, I was most impressed with the plethora of creative ideas for improving our campus and community. Our energy, enthusiasm, and commitment to action is evident in everything we do, whether it is promoting green initiatives on campus, volunteering for Leapfrog, a tutoring club for local schools, the animal shelter, Amnesty International, serving the student body through ASB, habitat for Humanity or Hope for Africa. We are here this afternoon because we share a desire, motivation, and drive to strive for the very best in academics, service, and leadership, and that has shown in the positive impact we have made in our school, and the local and global communities. I couldn't be prouder to have shared my university experience with all of you.
When Dean Sullivan-González asked me if I would be willing to deliver the charge, he told me that the charge was about each of us living courageously with what we have learned. But what is courage? Webster's dictionary defines "courage" as "the mental or moral strength to venture, persevere, and withstand danger, fear, or difficulty." We as students embarking on a new journey in life are certainly faced with a world filled with danger, fear and difficulty. As Honors College students, we will need courage as we enter the next exciting phase of our lives – pursuing higher education, building careers, and establishing families. We embark on these at a time of acute economic, political, and environmental challenges. However dangerous and difficult these challenges are, each of us, armed with the power of knowledge and self-confidence that we have gained during our education here at the University, will prevail in becoming constructive and contributing members of society.
As we bravely struggle to make our way, there is a different kind of courage we must also possess – the kind of courage that transcends the struggle of our personal subsistence. As the planet becomes more interlinked, more interdependent, the barriers of distance and cultural misunderstanding shrink, the consequences of our actions and the actions of others, are felt on a much wider scale. This new interdependent world is one of empowerment, but it also places a hugely important burden on each and every one of us to take up a CAUSE, to use OUR education, values, and passion to affect change in a responsible manner – to take up the plight of those less fortunate and less educated, to fight against social injustice, and to help save our precious environment.
Each of us is a leader and we need to set a courageous example for others to follow – being courageous to stand up for what is right when few others will – and to implement our values for the good of not just the local, but also the global community and the planet Earth.
Before I close out the charge, I'd like to thank the parents that supported our academic success, the professors that emboldened us with knowledge, the dean and honors faculty and staff who made these outstanding four years in the Honors College possible, and our Chancellor, Dr. Robert C. Khayat, who was instrumental to the founding of this institution and will be dearly missed. It is you that we owe our sharp instruments of knowledge and confidence – the tools that we will use to shape our paths into the future.
As all graduation speeches should have an inspiring quote, I'd like to end this one with the following from Keshavan Nair, a follower of Ghandi and author of A Higher Standard of Leadership. He states, "With courage you will dare to take risks, have the strength to be compassionate and the wisdom to be humble. Courage is the foundation of integrity." We are each proud students of the University of Mississippi, and accomplished members of the Sally McDonnell Barksdale Honors College. But remember as we enter bravely into the next exciting chapter of our lives, that each of us, for the rest of our lives, is an Ole Miss Rebel with a cause. Thank you, and good luck to us all.