Honors Leadership Council Members Attend Fall Meeting
On November 19th, the SMBHC had the pleasure of hosting members of the Honors Leadership Council. The Honors Leadership Council is comprised of University Scholars alumni, honors program alumni, SMBHC alumni, currents students' parents, and friends of the Sally McDonnell Barksdale Honors College. Council members provide vital financial support and steady wisdom to the SMBHC and its students.

Thank you to our members!

Additionally, we appreciate certain individuals who ensured the day's success. Professors Timothy Yenter and Nancy Maria Balach led mock Hon 101 classes for our leadership members, and we thank current students Hannah Dear, Cat Romaine, Nick Mitchell, Sofia Euyoque, Camille Newman, and Meghan Curry for accompanying them.

Many thanks to Andy Flores and Taylor Thompson for speaking on behalf of the First-Gen Student Network and the Honors Senate and Honors College Minority Engagement Council, respectively.

Shout-outs to Brady Bramlett, Penny Leeton, Kunal Shah, Taylor Thompson, and Mac Dulaney for working magic behind-the-scenes.

We look forward to welcoming back the Honors Leadership Council in Spring 2022.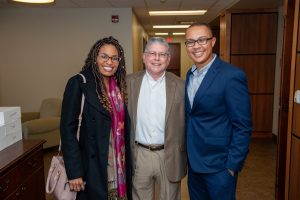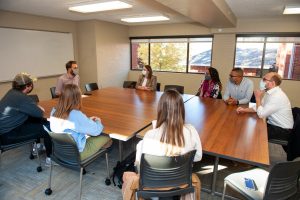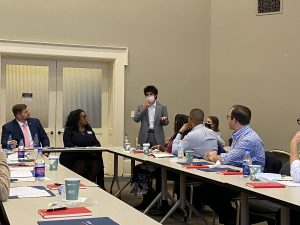 (Photos by Bill Dabney)