Student Attends World Food Security Conference in Rome, Italy
Last week, SMBHC computer science major Rohan Agrawal traveled to Rome, Italy, as one of only three U.S. students to cover the 46th Committee on World Food Security at the Food and Agriculture Organization of the United Nations (FAO), where he interviewed the First Lady of Colombia, Maria Juliana Ruiz, and heard a presentation by Dr. Jeffrey Sachs. Rohan engaged in discussions about combatting climate change and hunger with diplomats and leaders from around the world. He had the opportunity to attend sessions on increasing food security through technological innovations.
To read more about the scholarship Rohan won, visit here. 
#CitizenScholar #rushHOCO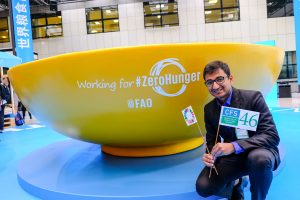 Photo by Dan Reed/PlanetForward.org