Honors Students Sweep Business Competition
Will Tribble (SMBHC 19) and Sam Harres (SMBHC 19) have won the 2018

Gillespie Business Plan Competition

for Shortwork, an app that provides crowd-sourced, on-demand, problem-by-problem solutions designed to teach. Will and Sam will soon receive $10,000 and free office space for a year at

Insight Park

. Congrats to them along with 2nd place winner Bella Gonzalez (SMBHC 18) of LaLa Letter and 3rd place winners Liz Lanford (SMBHC 20) and Lindy Goodson of Fraze Shades. Follow their business ventures on Instagram: @shortworkapp @lalaletter and @frazeshades !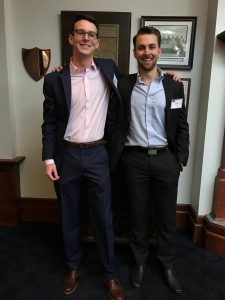 Will Tribble (L) and Sam Harres