Carnegie Hall Performance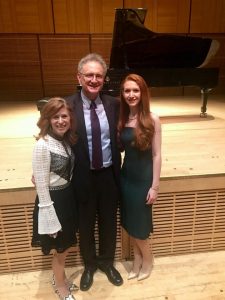 The sublime Nancy María Balach (left) stands with Dean Douglass Sullivan-González and Ava Street (SMBHC 19) at Carnegie Hall on the evening of the Chancellor's Honors College Artist in Residence and Holder of the Lester G. Fant Chair BRUCE LEVINGSTON's solo concert, featuring two world premieres of works by David T. Little and Price Walden, which were commissioned in honor of the opening of the new Civil Rights and History Museums of Mississippi in celebration of the state's bicentennial. Levingston's April 9th performance coincided with "Bruce Levingston Day" in Mississippi.
Also journeying to NYC, several students from the Ole Miss Choir and Living Music Resource enjoyed and took part in several performances over the weekend. Please visit their Facebook pages for wonderful pictures!