Freedom for All, Spring Convocation
Katie Ford, founder of the anti-human trafficking foundation Freedom for All and the legendary former CEO of Ford Models, will be our guest speaker at our SMBHC Spring Convocation on Tuesday, February 20th, 7 pm, at the Ford Center. Shandra Woworuntu, a survivor of human trafficking and now an international leader in the fight against human trafficking around the world, joins Ms. Ford for this incredible evening. Their powerful organizations and efforts help rescue, rehabilitate and reintegrate survivors and combat national and international sex trafficking, debt bondage, forced labor and child labor. Mark your calendar today and join us to hear these two influential and courageous women as they tell their personal stories about how their lives were changed and how they have changed lives regarding one of the most important issues of our day.
SMBHC students are expected to attend. All are welcome. Tickets are not required.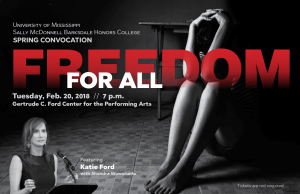 In connection to our spring convocation, the SMBHC is offering a course on Human Trafficking–Law and Policy, being taught by Professor Michèle Alexandre. In this course, students will study closely the global factors that cause Modern Slavery (otherwise known as Human Trafficking) to be among the top markets in the world. Despite efforts to curtail this atrocity, demands for human bodies (for labor, sex, etc.) remain incessant. The United States is far from immune from this plague. In fact, domestic human trafficking is growing rapidly in unlikely parts of the United States. For this reason, the problem requires global as well as national solutions. In this course, students will spend the first few weeks learning about the make-up and structure of the human trafficking market, as well as the relevant international and domestic laws that try to destroy it. Students will then work closely to research local regimes in the United States and their effectiveness at preventing/stemming the flow of human trafficking. Among others, the course covers the following topics: labor trafficking; sex trafficking of minors; sex trafficking by force, fraud, and coercion; state, federal, and international responses; remedies and services for human trafficking victims and survivors; and corporate accountability. Specific laws and prevention regimes include the federal Trafficking Victims Protection Act ("TVPA"); federal, state, and local criminal prosecutions of traffickers; assistance for victims and victims' rights issues; and issues of international cooperation and conflict. The course also reviews the role that law enforcement, the United States government, and non-governmental organizations play in combating human trafficking, and the collaboration that takes place between state/national and international law enforcement. The goal of this study is for students to gain a solid foundation of relevant international, federal and state laws and their limitations. In the process, students will explore practical ways for more effective legislations/other measures for preventing rise of trafficking. As a result, the course will culminate in a collective class report– informed by the students' individual research papers on trafficking in the South of the U.S.