SMBHC Seniors Present Posters
Senior SMBHC students Heather Poole and Sarah Sutton presented posters at "Posters in the Rotunda" in Jackson, Mississippi, on March 23, 2017.
Keller, Texas native Heather Poole presented Improving Health of Rural Mississippians through Farmers' Markets. Heather will graduate in May with a degree in Nutrition and Dietetics. Her faculty mentor is Dr. David H. Holben. Heather received external funding from the Robert M. Hearin Foundation. After graduation, Heather will pursue a dietetic internship program to complete her rotations in order to become a Registered Dietitian.
Albuquerque, New Mexico native Sarah Sutton presented Spectroscopic and Computational Study of Chlorine Dioxide/Water Interactions.  Sarah anticipates pursuing a PhD in Chemistry or Public Health. Her faculty mentor is Dr. Nathan Hammer. Sarah received external funding from the National Science Foundation.
The "Posters in the Rotunda" program, including details about Heather and Sarah's posters, may be viewed here.
Mr. Jason Hale, Director of Research Development of the Office of Research and Sponsored Programs at the University of Mississippi, coordinated UM posters for this event.
Congratulations to Heather and Sarah!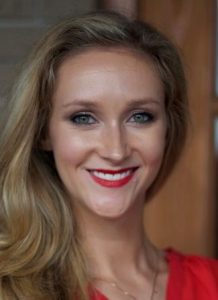 Heather Poole (left) and Sarah Sutton